Dr. Christian Swenby
Owner/Optometrist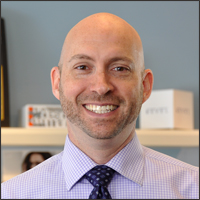 Dr. Christian Swenby is excited and proud to be joining his wife, Dr. Betsy Swenby, in their own private practice optometry practice in Guilford, CT, Visual Eyes LLC.
Dr.Swenby is a 2000 graduate of the New England College of Optometry. He spent his first year in practice learning under the tutelage of Ophthalmologist Claudia Richter – a Glaucoma and Cataract specialist in Boston. Following his time in Boston, he moved with his wife to Connecticut and spent two years working at Diamond Vision performing pre- and post-operative care on LASIK patients.
Dr. Swenby was recently honored as the 2008 Young Alumnus of the Year for the New England College of Optometry and Connecticut's Young Optometrist of the Year in 2009. He is currently serving on the Board of Directors for the Connecticut Association of Optometrists, and was active in volunteering for kids-vision programs in the Hartford school systems.
Living, and now practicing in Connecticut's Shoreline allows him to spend more family time with his wife, daughter Elizabeth & pet terrier Lola.